Ultimate Power – CANCELLED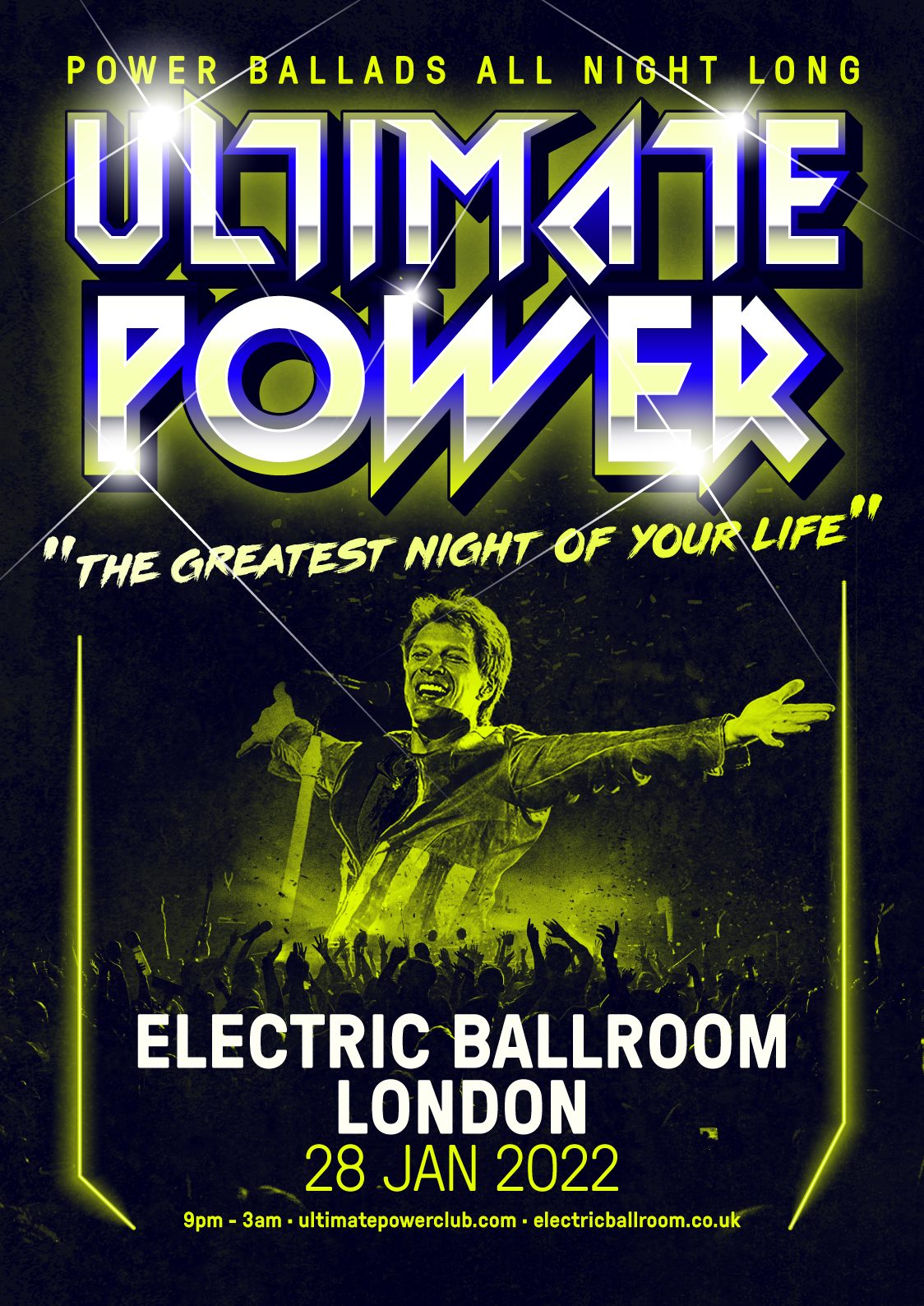 Due to circumstances beyond our control unfortunately we are not able to proceed with this Friday's Ultimate Power at Electric Ballroom. However, we are delighted to announce that on February 25 we will be back, with a special Meat Loaf celebration Ultimate Power – all the power ballads you know and love plus added Loaf classics to pay tribute to the life of a true legend.
Please let us know if you would like to transfer your tickets to February, or receive a refund.
Much love, Ultimate Power
Throughout the privileged position that Ultimate Power has been enjoyed running for 15 years so far, the enjoyment and satisfaction of their customers has been paramount to every decision they've made. Without that their club is nothing and at the heart of this has to be the safety of their customers.
For all events: please do not attend if you have Covid symptoms. Please wear a face mask while attending the club!
For entry to our events, you will need to demonstrate your COVID-19 status by providing either:
– Proof of a negative NHS Rapid Lateral Flow Test (such test to be taken within 24 hours prior to attending the event at the venue); or
– Proof of full vaccination – both doses received (with the second at least 14 days prior to the arrival at the venue); or
– Proof of natural immunity based upon a positive PCR test within 180 days of arrival at the venue (and after the 10-day self-isolation period following the result).
We will accept proof of a negative test through email or text to your devices, or via using the Covid pass system available through the NHS app. These can be shown to us digitally or in a printed format, please also bring a valid form of ID with you. We will not be able to accept Covid Vaccination cards.
We will check everything externally at our venues. We will of course welcome people purchasing tickets on the door, so if you think you might like to attend, please prepare ahead of time just in case.
We understand we are asking our customers to follow extra steps at this point and we need you more than ever. So if you have any questions or queries please reach out to us directly online and we will do everything we can to help you obtain what is needed. If you have Covid-19 symptoms or test positive, reach out online without attending the club in person. We will of course provide ticket transfers to later dates or refunds depending on preference as long as you have contacted us 48hrs or more from the club opening.
Stay safe and stay powerful.
Ultimate Power
Useful links:
Ordering and acquiring tests:
https://www.gov.uk/order-coronavirus-rapid-lateral-flow-tests
Reporting tests:
https://www.gov.uk/report-covid19-result
NHS App:
https://www.nhs.uk/nhs-app/
18+
---