Sounds Familiar Music Quiz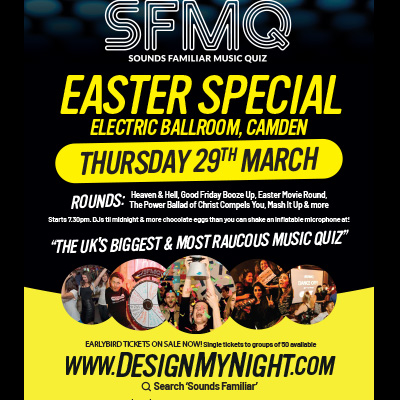 Kick off your Easter Bank Holiday in the best possible way with the UK's most raucous music quiz – followed by an enormous hangover! SFMQ are taking over the legendary Electric Ballroom in Camden for an Easter Special on Thursday 29th March.
Rounds will include Heaven & Hell, Good Friday Booze Up, Mash It Up, Easter Movie Round, Power Ballad of Christ Compels You and more.
PLUS, slightly more upmarket prizes than usual, Easter surprises, DJs til midnight and more chocolate than you can shake an inflatable microphone at.
Hurry, tickets will sell out quicker than Hot Cross Buns at your local Budgens.
ABOUT SFMQ:
Sounds Familiar Music Quiz is the biggest, best and most raucous music quiz in the UK!
With over 100 eclectic tracks across 8 different categories per quiz, SFMQ guarantees to ensure everyone in the team can be included. With the ethos 'you don't have to know the answers to have a good time', it really is the taking part that counts. From Wham! to Weller, Katy Perry to Tom Petty, Bruno to Bowie, from Tina Turner to Tinie Tempah – we have it all. At the end of the night, crowds are on their feet – and in most cases the tables – dancing and belting out the tunes.
We have prizes for 1st, 2nd, 3rd and last place plus Best Team Name, while the 'Wheel of Forchooon' could throw out anything from 'Gibb Us A Clue' to 'I'm No Fool, I Know My Old Skool'. It's a fun, fantastic night and it's why people keep coming back to SFMQ over and over again.
---
Doors 6.00 quiz starts at 7.30 and DJ's till mid night.
---