Propaganda London – NYE Prohibition Party!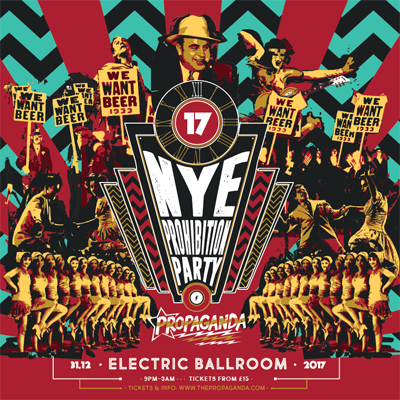 PROHIBITION!!! A ban on the production, importation, transportation, and sale of alcoholic beverages is coming to Camden on NYE! Not at Electric Ballroom though. Our bootleggers will be keeping the bars stocked and a drink in your hand. 
Don your suits, hats and evening gowns as we party in 2018 in style! We'll be transforming Electric Ballroom into 1930s ball 
****************
Camden's biggest party will be seeing in 2018 with two incredible rooms of music!
♪♪♪♪ Main Room: PROPAGANDA
Propaganda resident DJs play Arctic Monkeys, The Killers, Catfish & The Bottlemen, Blink 182, Ed Sheeran, The 1975….. AND a bit of Taylor Swift for good measure!
♪♪♪♪ Room 2: SHAKE
The best in pop, party, RnB and dance music!
****************

Propaganda's DJs have played at some of the biggest festivals in the world including Glastonbury Festival (official), Big Day Out, Reading Festival, Leeds Festival and Benicassim as well as at events in Ibiza, New York, Brazil & across the UK!
****************

Valid photo ID required for entry.
****************

We'll see you on the dancefloor party people!
---