Pop Juice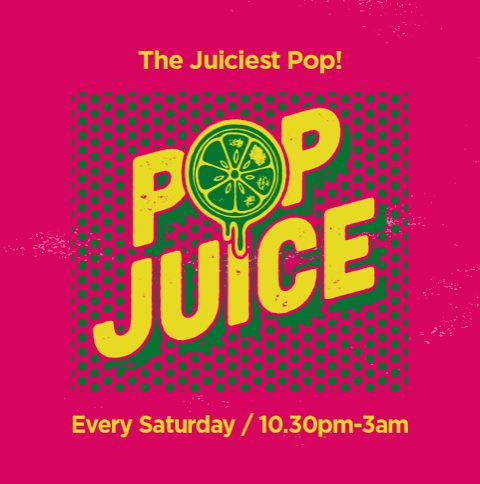 Pop Juice is a new Club Night dedicated to the euphoric joys of Pop Music.
Pop comes in many forms across many different genres, so our DJ's will be bringing a diverse universe of the many shades of Pop, mostly from the Noughties & 2010's
to the present day, with a sprinkling of throwback classics from the 80's & 90's and maybe one or two from further back.
So come down and DANCE to the Juiciest Pop tunes from some of the following artists, which gives a flava of what you can expect to hear.
LIZZO  /  DUA LIPA  /  TAYLOR SWIFT  /  MADONNA  /  BEYONCE  /  THE KILLERS  /  THE WEEKND  /  PINK  /  CARDI B  /  ED SHEERAN  /  KSI  /  YUNGBLUD  /  BRITNEY
LADY GAGA  /  CALVIN HARRIS  /  BRUNO MARS  /  CELESTE  /  ONE DIRECTION  /  MAJOR LAZER  /  MGMT  /  KYLIE  /  MURA MASA  /  AMY WINEHOUSE  /  NENEH CHERRY  /  TLC
YEARS & YEARS  /  USHER  /  KAISER CHIEFS  /  ROBBIE  /  BLONDIE  /  KELIS  /  RICK ASTLEY  /  RIHANNA  /  CHRISTINE & THE QUEENS  /  RUN THE JEWELS  /  KATY PERRY  /  MILEY
BLACK EYED PEAS  /  SOUL 2 SOUL  /  OUTKAST  /  HARRY STYLES
Doors 10.30pm – 3am
Cut off Time for entry is at 1:30 am (we advise to arrive before that time)!!
18+
---