NIRVANA UK + FOO FIGHTERS GB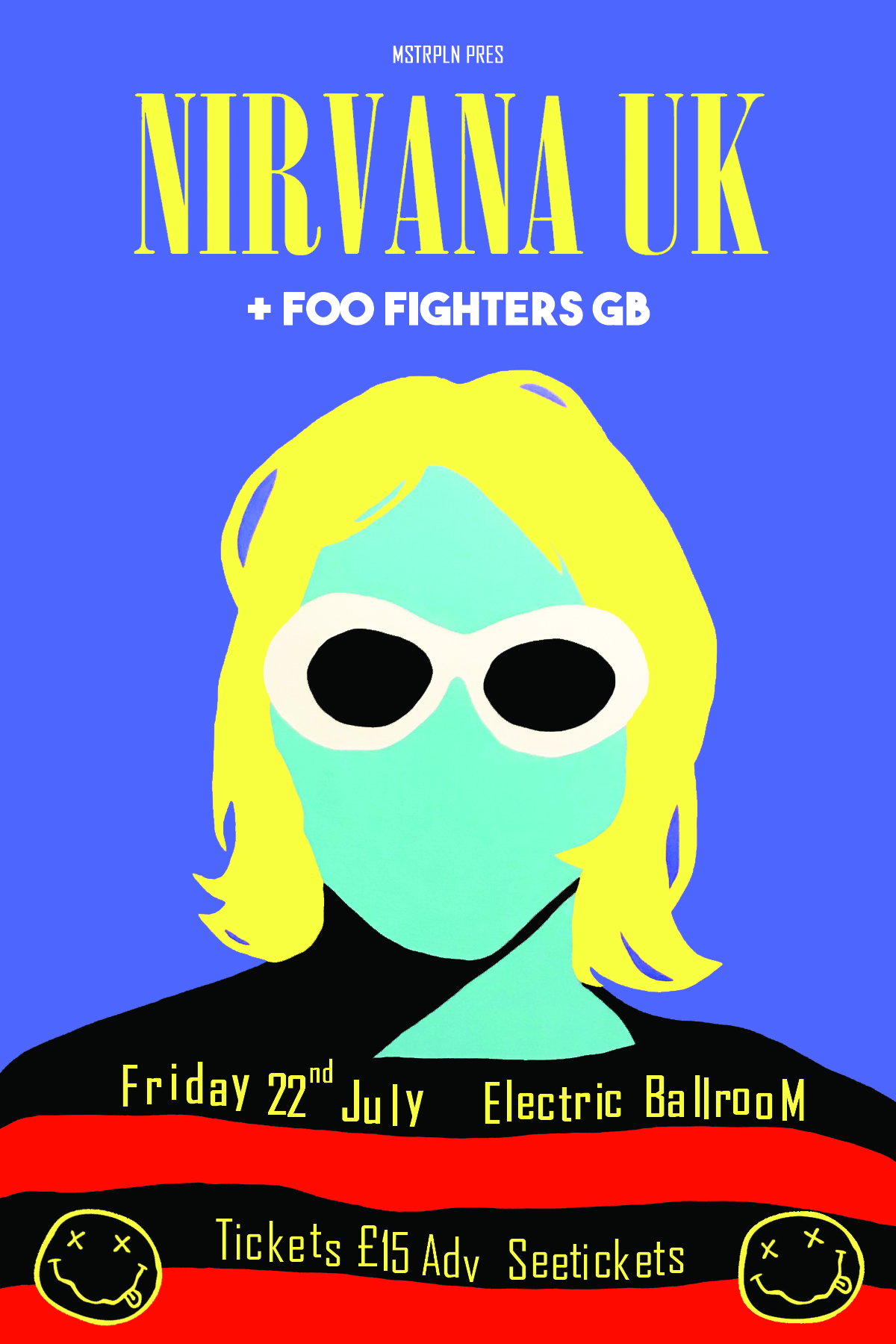 Nirvana UK are returning to the capital on Friday 22nd July making their debut at the legendary Electric Ballroom in the heart of Camden London for a high summer assault of classic 90's grunge. 
Tearing up venues up and down the UK and around Europe the band are formed of 3 die hard Nirvana fans who love nothing more than recreating Nirvana's live music and look for other fans! The band strive to be as close to the real deal as possible. Including the same instruments, effect boxes and pre amp that Kurt Cobain used to ensure they re-create the distinctive Nirvana sound.
The band is made up of;
Jez – Kurt Cobain
Dan – Krist Novoselic
Jon – Dave Grohl
Nirvana UK's set includes the whole spectrum of Nirvana's live and studio catalogue, from rarities on From the Muddy Banks of the Wishkah, to the massive sounding commercial success of Nevermind, through debut Bleach, Incesticide, In Utero and everything in between – Not to mention the standard Nirvana style anarchy and abuse of gear at the conclusion of each show.
So if like us, you love Nirvana, or just want to re live your youth, come as you are and check them out…. you won't be disappointed.
Opening up the evening we create the ultimate double bill with FOO FIGHTERS GB. Five musicians at the top of their game, bringing to you the talent and stage presence to perform the biggest hits from the greatest rock band in the world.

Celebrating the hits of the Foo Fighters in full volume Foo Fighters GB have quickly established themselves as the UK's finest and most talked about tribute to the Foo Fighters, the greatest rock band on the planet. Foo Fighters GB have been rocking out festivals and music venues since summer 2015 with their charismatic and adrenaline pumping show!
The Foo Fighters GB take audiences on in an absolutely epic, exhilarating journey playing all their favourite Foos tracks, from the first eponymous album releases This is a Call through to Medicine at Midnight, so many anthems to choose from it's a big big show !
The resemblance and re-creation of their performance is leaving audiences believing they have seen the Foo Fighters themselves.
Doors open at 6pm with Foo Fighters GB onstage from 6.30pm and Nirvana UK onstage from 8.15pm both playing full 90 minute sets – Tickets are on sale now priced £15 advance from Seetickets and the Electric Ballroom website. 
Please note this show is 14+ (under 16s must be accompanied by an 18+ adult)
---