Massaoke 80's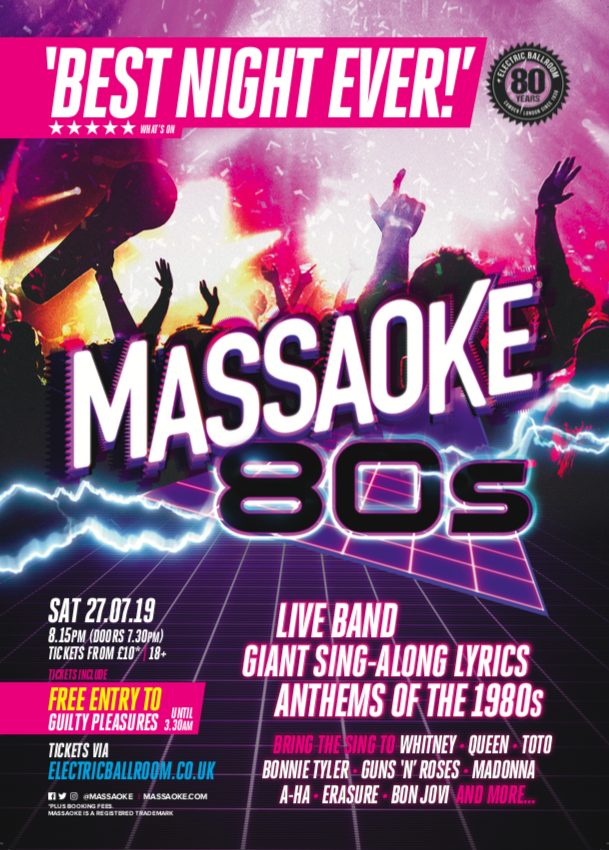 27.07.19 –
MASSAOKE 80's
An 80s extravaganza with the Massaoke band at London's famous Electric Ballroom. Live band, giant sing-along lyrics and 80s anthems!
After a year that's seen the be-sequinned, glammed up rockstars jet-setting all over the world, smashing out sell-out shows at Australia's Adelaide Fringe, Rochester Fringe in New York and getting people singing across the UK, it's now time to bring the sing to Camden Town's Electric Ballroom.
For the uninitiated, Massaoke is a huge mass karaoke party with a live band and giant sing-along lyrics. Expect 80s classics from Bon Jovi to Bonnie Tyler, A-Ha to Erasure, Toto to Madonna… it's gonna be a hell of a Journey.
On Saturday 27th July, we'll be new romancing our way back to the 80s so back-comb your hair, don those ra-ra skirts, get your jacket sleeves rolled up, add a splash of eyeliner and, most importantly, get warming up those vocal chords for a singalong show to rival Live Aid!
And what's more, your ticket allows you to stay on and dance the night away with the fabulous Guilty Pleasures – the UK's biggest pop party.
Please note this event is 18+.
Tickets on sale now!
---