IBIBIO SOUND MACHINE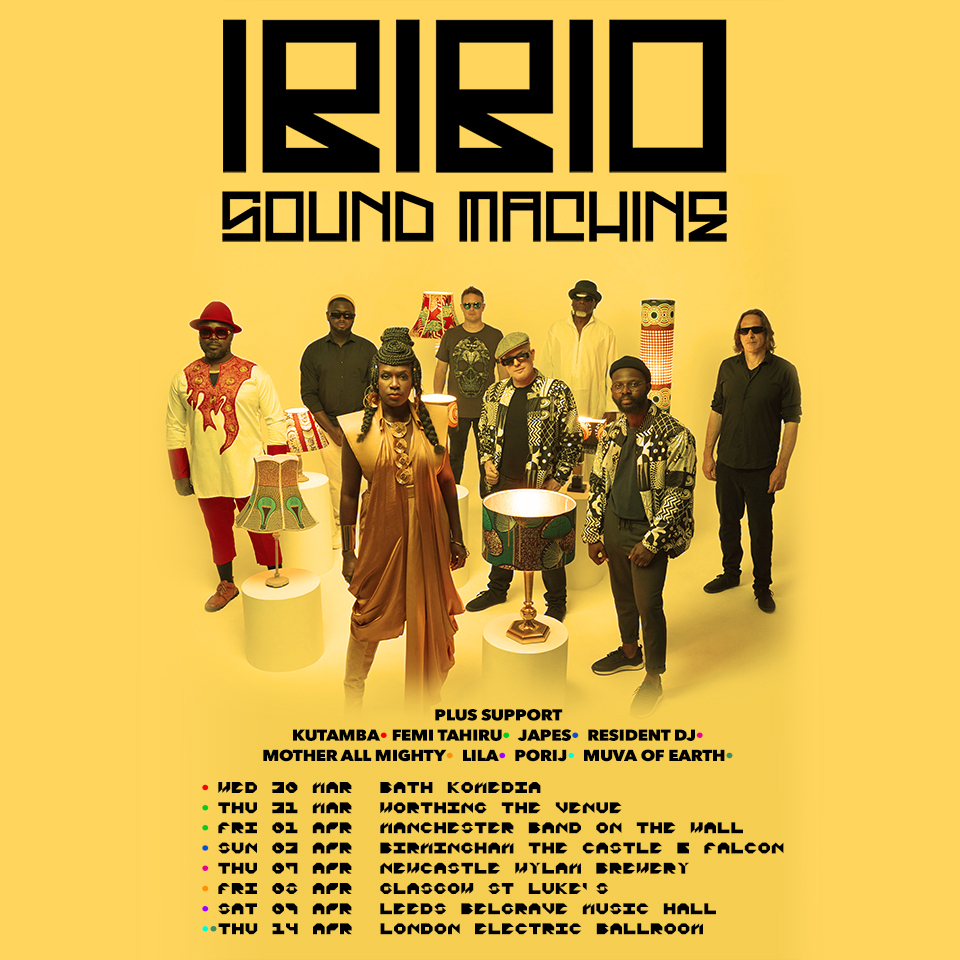 Ibibio Sound Machine enter the studio with Hot Chip, share new track "Electricity" and 2022 UK dates
So an Afro-funk ensemble and a synth-pop band walk into a studio…
Ibibio Sound Machine and Hot Chip—fixtures of the London music scene, bound by a love for electronic dance music—recently recorded a new Ibibio Sound Machine single called "Electricity" at Hot Chip's studio. The track debuted earlier today on Lauren Laverne's BBC 6Music show and comes alongside news of a run of UK shows in 2022, their first tour since 2019.
Ibibio Sound Machine's Eno Williams on "Electricity":
Even in trying times, "without love, there's no electricity." This one started out as an idea to mix Afrobeat with Giorgio Moroder–style synth vibes. The end section with Alfred's korego (Ghanaian 2-stringed folk guitar) solo was already there when we got into the studio, but then we added the big kick drum that happens underneath and Owen from Hot Chip's crazy drum machine percussion at the end, which gave it a futuristic Afro feel when mixed with the more talking drum parts.
Ibibio Sound Machine was founded by Williams and Max Grunhard in 2013 with the idea of combining the unique sound of the Ibibio language that Eno spoke growing up in Nigeria with both traditional West African and more modern electronic musical elements. They linked up with Merge Records in 2017 for Doko Mien in 2019.
Tickets for Ibibio Sound Machine's UK shows go on sale Friday at 10am GMT!
Critical love for Ibibio Sound Machine:
"Western pop fans will hear echoes of Michael Jackson, James Brown, Gary Numan, Prince, Talking Heads and, yes, Miami Sound Machine; African music devotees will recognize threads of juju and Afrobeat from Nigeria, high life from Ghana and makossa from Cameroon." New York Times
"West African funk, disco, post-punk and electro-pop collide in the music of Ibibio Sound Machine." 
"a groove-driven melange of styles which also takes in gospel, funk, post- and electro-punk and contemporary R&B, alongside African polyrhythms, horns and guitar" Guardian
"Led by singer Eno Williams, Uyai becomes a wildly diverse mix of global sounds whose focus this time has turned to themes of liberation, power, and beauty—specifically that of women." Pitchfork
"Building on the fresh inventiveness of Uyai, this new album cheerfully chops up and reassembles genres in a way that is seriously funky." —MOJO
"No one is crushing different sound worlds together quite as compellingly as them right now." DJ Mag
"Built on the foundations of storming bangers and comforting electro lullabies, Ibibio Sound Machine show they can do it all." Clash
Ibibio Sound Machine on tour:
Mar 30 Bath, UK – Forum
Mar 31 Worthing, UK – The Venue
Apr 01 Manchester, UK – Band on the Wall
Apr 03 Birmingham, UK – The Castle & Falcon
Apr 07 Newcastle, UK – Wylam Brewery
Apr 08 Glasgow, UK – St. Luke's
Apr 09 Leeds, UK – Belgrave Music Hall
Apr 14 London, UK – Electric Ballroom
---