*CANCELLED*DESERTFEST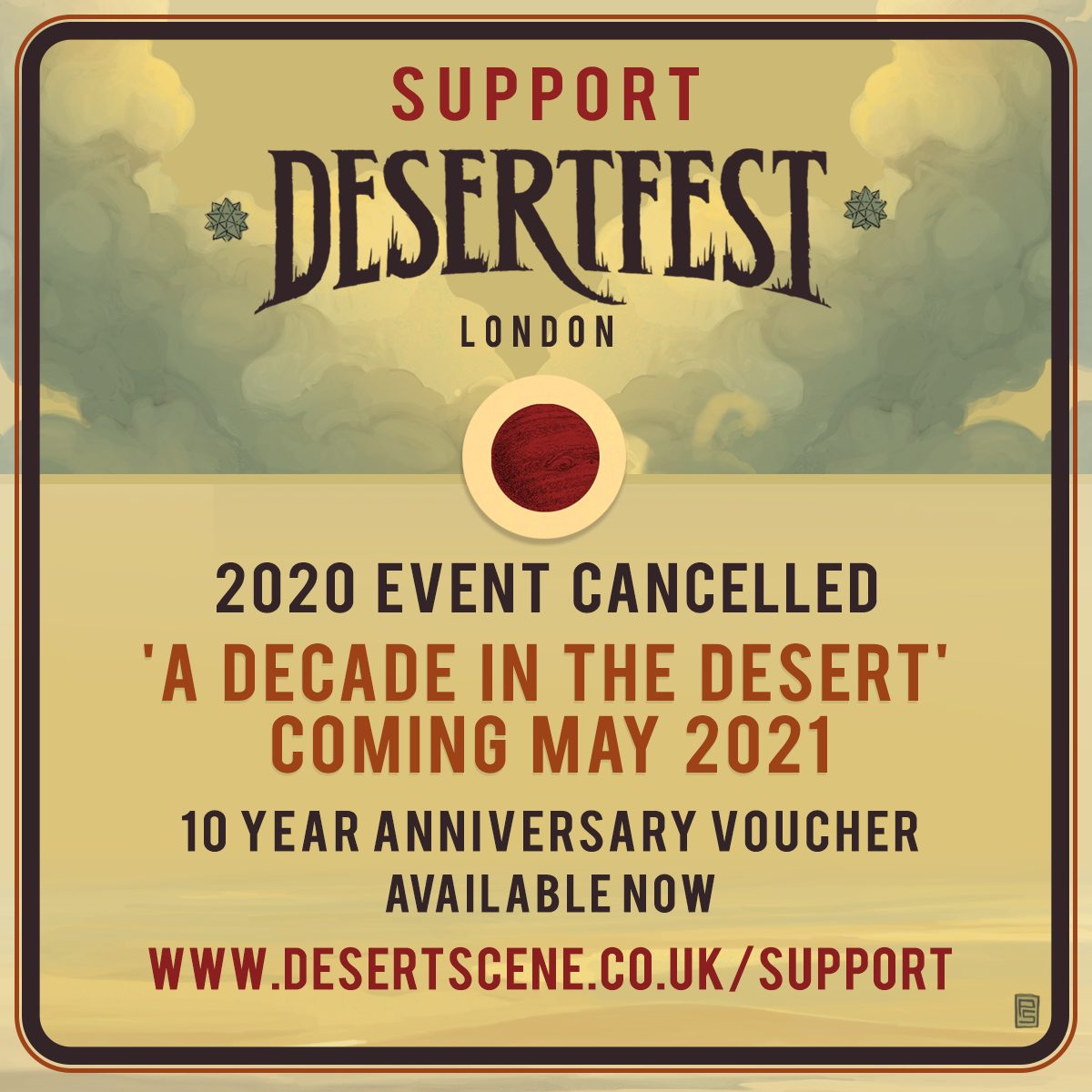 Hello to our amazing Desertfest family,
Thank you for your patience and kind words over the last few days, it has kept us grounded through all this uncertainty. With the utmost sadness we must announce the cancellation of this year's Desertfest London. We know this will not come as a surprise to many of you, as so many of our peers have made, and will continue to make, the same difficult choices due to the COVID-19 pandemic.
This was not an easy decision and there has been much to work through behind the scenes which required ironing out before we could make this announcement. We want to let you know that we tried our best to bring you an event in some capacity, but sadly no scenario would bring the outcome we all want; the incredible atmosphere of Desertfest. With so many different venues, plus a lot of shared acts with our Berlin team, rescheduling to a later date in 2020 has also shown to be impossible. We feel the safest and most logical option is to take this year out and re-build for our 10-year anniversary next May.
Desertfest is a completely independent venture, there are no backers, investors or corporate sponsors keeping us afloat, making this cancellation more than just emotionally devastating. We have reached this level purely because of our amazing community of heavy music loving fans, you are the reason Desertfest is the festival it is. Now, we must look forward to making our 10-year anniversary the most incredible comeback ever, with your continued support allowing us to firmly keep our feet in the metaphorical sands of Camden.
Below you will find several different options for refunds and DF support packages:
   Keep hold of your ticket: Roll your 2020 ticket over to the 'Decade in the Desert' 10-year anniversary taking place May 2021. This is a HUGE help to us, allowing us to see the lay of land well in advance of the event. All those who roll their ticket over will receive a free patch sent in the coming months, plus an exclusive merch item at the 2021 event. You do not need to do anything to roll it over, DICE will take care of it.
10 Year Anniversary Voucher: Purchase a 2021 '10 Year Anniversary Voucher' these are effectively a super early-bird and again a huge support for us in the immediate few months. All those who purchase the 2021 voucher will receive a free patch sent in the coming months.
Refund your ticket in full: We completely understand these are unprecedented and difficult times where some of you may need to claim a refund. You can do so by contacting DICE (your point of purchase) who can assist.
For those who want to show their support, but cannot commit to a 10-year anniversary voucher at this time, we have also set up several donation options via www.desertscene.co.uk/support, many with free merch as our way of showing our thanks.
This cancellation affects not only the three of us, but our amazing line-up of artists, please support them by buying music and merch directly from their sites. We also want to extend our love to our huge and incredible crew of stage managers, merch sellers, photographers, videographers, writers, drivers and so many more – all of which we can't wait to hug and drink a pint with next May.
Thank you so much for your understanding, support and kindness at this time. We are nothing but a small team of people wanting to bring joy to other music lovers.
Please stay home, safe and healthy. We can't wait to see you in May 2021.
Much love,
Desertfest London – Reece, Jake & Sarika
---