DEERHOOF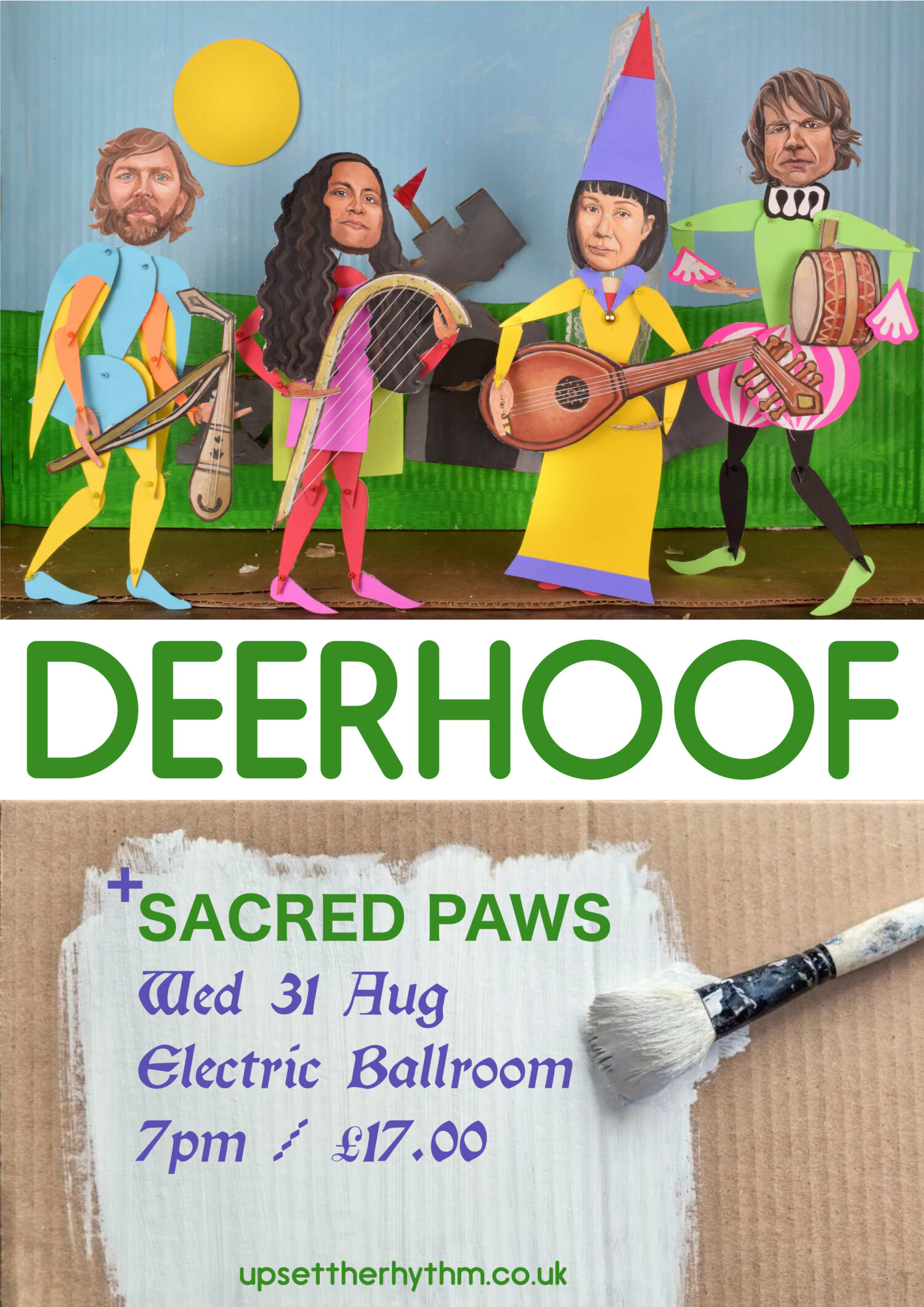 Upset The Rhythm presents…
DEERHOOF
plus SACRED PAWS
DEERHOOF have continually quested for daring storytelling and radical sounds over their eighteen boundless albums, as experimental as they are pop. 2020's critically acclaimed, overwhelmingly prescient Future Teenage Cave Artists explored fairytale visions of post-apocalypse, welding intrinsic melodies with absurdist digital recording methods. Its immediate sequel Love-Lore, a live covers medley, channeled futurist mid-century artists—Parliament, Sun Ra and Stockhausen, to name a handful— into a patchwork love letter to the anti-authoritarian expressions that inspire the band.
Deerhoof's latest, Actually, You Can, is a genre-abundant record that uses technicolor vibrancy and arpeggiated muscularity to offer a vital shock from capitalism's purgatorial hold. The band says, "Think of all the beauty, positivity and love that gets deemed ugly, negative and hateful by the self-proclaimed guardians of 'common sense.' We'd hardly be destroying society by dismantling their colonial economics and prisons and gender roles and aesthetics. We'd be creating it!"
https://deerhoof.bandcamp.com/
SACRED PAWS
are a fantastic, intuitive dream punk duo, comprising Eilidh Rodgers of Golden Grrls on drums, and Rachel Aggs from Trash Kit and Shopping on guitar. Raw Soweto high-life riffs and rolling Afrobeat grooves are filtered through post-punk sass and ramshackle K Records charm. It's an utterly joyous sound, the duo trading giddy melodies and righteous chants over febrile rhythms and chunky, infectious riffage. Rock Action released the band's debut album 'Strike A Match' in 2017 and it received a slew of incredible reviews from the likes of Q, DIY, Clash, Loud & Quiet, The Skinny and was voted Scottish Album of the Year too! In 2019 they followed that up with 'Run Around The Sun' (out May 31st on Merge / Rock Action) brimming with upbeat reflections on growing up and looking back.
http://www.sacredpaws.co.uk
Please note this show is 14+ (under 16s must be accompanied by an 18+ adult)
---