Bring It All Back – High School Musical Party!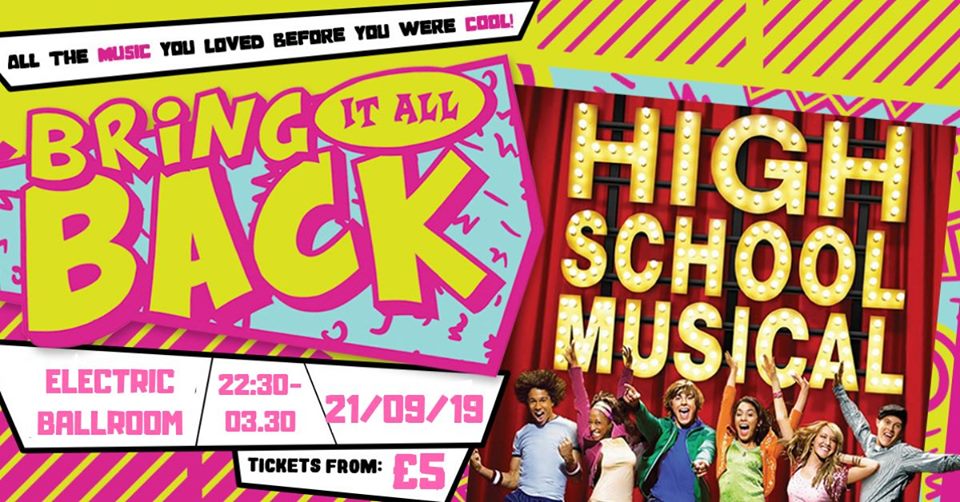 21.09.19 –
BRING IT ALL BACK – HIGH SCHOOL MUSICAL PARTY
Listen up Wildcats! Bring It All Back is excited to be bringing back the 'High School Musical Party' at Camden Towns iconic Electric Ballroom!
Celebrating 13 years since it's release on the Disney Channel we'll be playing ALL the songs from the 3 movies and highly encourage you to dress up as your favourite character although a basketball strip, cheerleader outfit or your own getup will be acceptable… GET'CHA HEAD IN THE GAME!
Downstairs: HSM PARTY + a totally awesome night packed full of everything from Throwback Pop Hits, RnB & Hip Hop Tunes, Dance Classics, Indie Sing Alongs, Pop-Punk Belters, TV/Movie Theme's and of course those Guilty Pleasures… You know, all the songs you sing in your car… ALONE!
Upstairs: Current and classic RnB, Hip Hop and Urban Tunes from past to present!
"We're all in this together!"
Make sure to get tickets early as the last HSM party in London was a sell out!
Striclty 18+ I.D Required.
© 2018 DC85 EVENTS ALL RIGHTS RESERVED – This includes all descriptions and tag lines used on this event page.
---