Sunday Best Recordings' 20th Anniversary Party – RESCHEDULED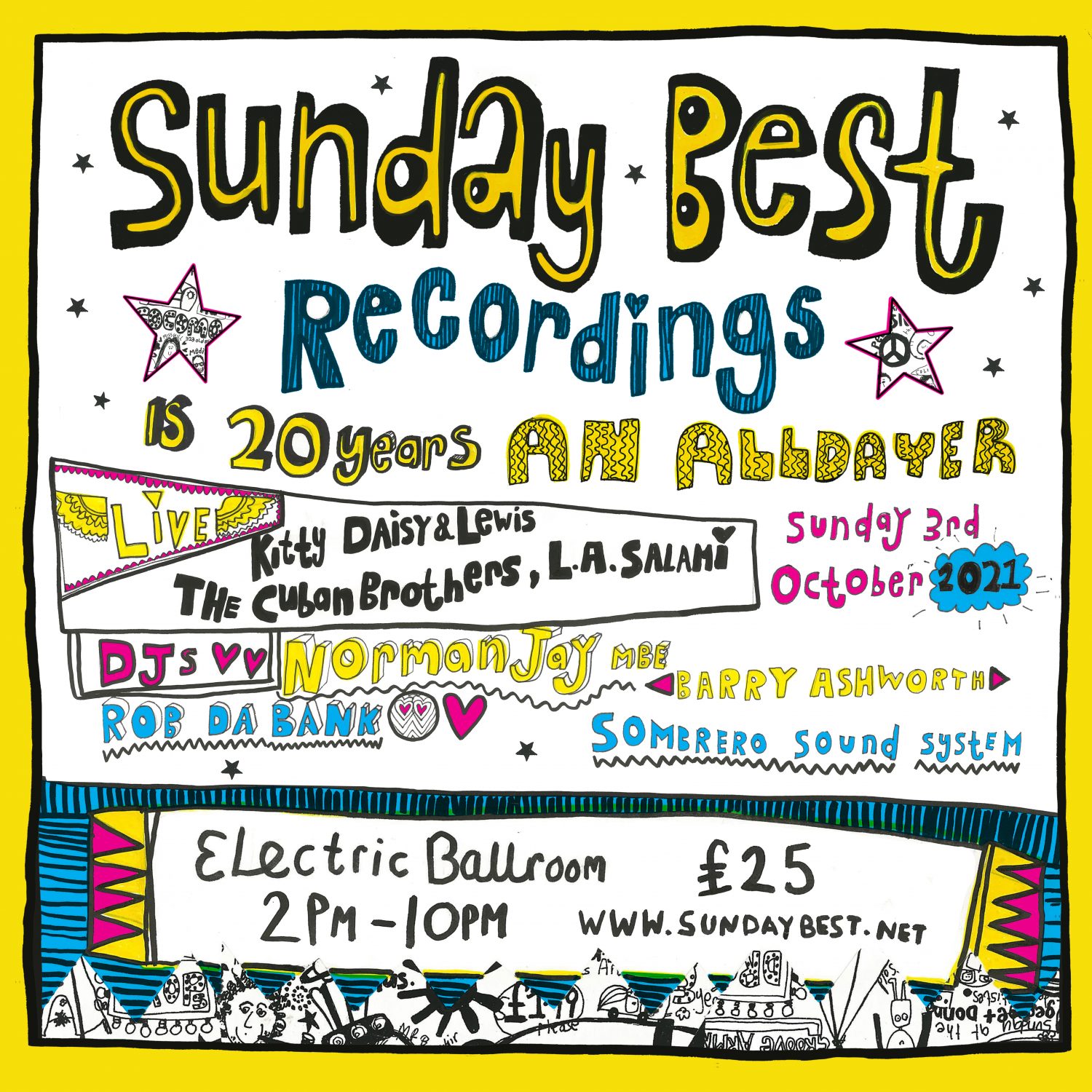 Sunday Best regret to announce that we are postponing our 20th Anniversary All-dayer to Sunday 22nd May 2022.
Covid is impacting Autumn events across the UK and we wish to honour our 20th year celebration with the full on party it deserves.
The identical lineup of Kitty, Daisy & Lewis, The Cuban Brothers, L.A. Salami, co-founder Rob da Bank, Norman Jay MBE, Barry Ashworth and Sombrero Sound System will be joining us as well as some new additions.
We deeply apologise for any inconvenience caused.  All tickets are carried over and remain valid for the rescheduled May date.
We look forward to celebrating in style at the Electric Ballroom in the Spring of 2022!
On Sunday 3rd October, Sunday Best Recordings will celebrate 20 years of the label with an all-day festival at Camden's Electric Ballroom.
Featuring performances from Kitty Daisy & Lewis, The Cuban Brothers and LA Salami, as well as DJ sets from co-founder of the label Rob da Bank, Norman Jay MBE, Barry Ashworth, Sombrero Sound System & Wayward, the event kicks off at 2pm and is the perfect way to celebrate two decades of one of the most eclectic and respected independent labels around.
SUNDAY BEST RECORDINGS was founded by Sarah Bolshi and Rob daBank in 2000. The label has always been renowned for its expansive roster and an unswerving dedication to the leftfield. Rob originally ran Sunday Best as a leftfield London club night from 1995, hosting the now legendary DJs Fatboy Slim, Basement Jaxx and the sadly departed seminal icon Andrew Weatherall. Celebrating an 'anything goes' music policy, the club night formed an essential blueprint for Sunday Best the label.
Rob went on to co-create Bestival/Camp Bestival and presently broadcasts as a radio DJ on Gilles Peterson's Worldwide FM after departing fromBBC Radio One. Bolshi cut her teeth working in A&R at Big Life Records, mentored by the legendary JazzSummers (Manager to Wham, Soul II Soul, Lisa Stansfield etc) working on acts like The Orb and De Le Soul before establishing her first critically acclaimed breakbeat label Bolshi Records in 1996. She is in the process of re-releasing the Bolshi catalogue digitally via the Sunday Best umbrella. da Bank and Bolshi joined forces in 2000 building a roster over the last 20 years which included releases by the legendary film director David Lynch, Kitty Daisy and Lewis, dan le sac Vs Scroobius Pip, Valerie June (First LP) and more recently L.A. Salami, O'Flynn and JW Francis to name but a few.
14 + ( Under 16's must be accompanied by an adult )
---