Pop Juice – The Halloween Thriller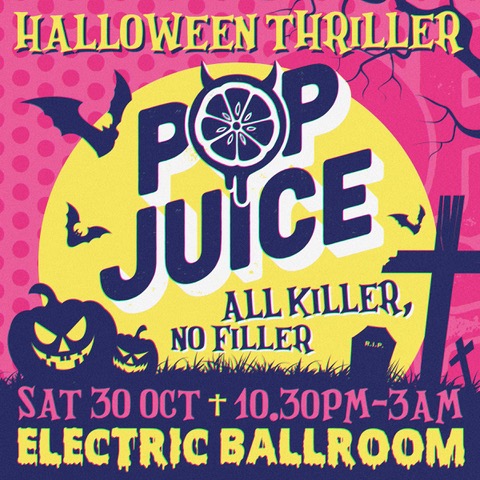 POP JUICE –  THE HALLOWEEN THRILLER
ALL KILLER, NO FILLER
Come on down to the Electric Ballroom's Big Halloween Bash.
You may or may not hear the King of Pop's all time Halloween smash, but chances are pretty good, plus other tunes that go bump in the night – or at least make you dance.
Fancy dress and Halloween costumes highly encouraged, with the emphasis on Fun/playful/funny – funny & scary, now there's a challenge
Possibly some Treats for ones we like a lot and Tricks for ones we don't!
Pop Juice is a new Club Night dedicated to the euphoric joys of Pop Music.
Pop comes in many forms across many different genres, so our DJ's will be bringing a diverse universe of the many shades of Pop, mostly from the Noughties & 2010's
to the present day, with a sprinkling of throwback classics from the 80's & 90's and maybe one or two from further back.
So come down and DANCE to the Juiciest Pop tunes from some of the following artists, which gives a flava of what you can expect to hear.
LIZZO  /  DUA LIPA  /  TAYLOR SWIFT  /  MADONNA  /  BEYONCE  /  THE KILLERS  /  THE WEEKND  /  PINK  /  CARDI B  /  ED SHEERAN  /  KSI  /  YUNGBLUD  /  BRITNEY
LADY GAGA  /  CALVIN HARRIS  /  BRUNO MARS  /  CELESTE  /  ONE DIRECTION  /  MAJOR LAZER  /  MGMT  /  KYLIE  /  MURA MASA  /  AMY WINEHOUSE  /  NENEH CHERRY  /  TLC
YEARS & YEARS  /  USHER  /  KAISER CHIEFS  /  ROBBIE  /  BLONDIE  /  KELIS  /  RICK ASTLEY  /  RIHANNA  /  CHRISTINE & THE QUEENS  /  RUN THE JEWELS  /  KATY PERRY  /  MILEY
BLACK EYED PEAS  /  SOUL 2 SOUL  /  OUTKAST  /  HARRY STYLES
Doors 10.30pm  –   3am
18+
---