Pigs Pigs Pigs Pigs Pigs Pigs Pigs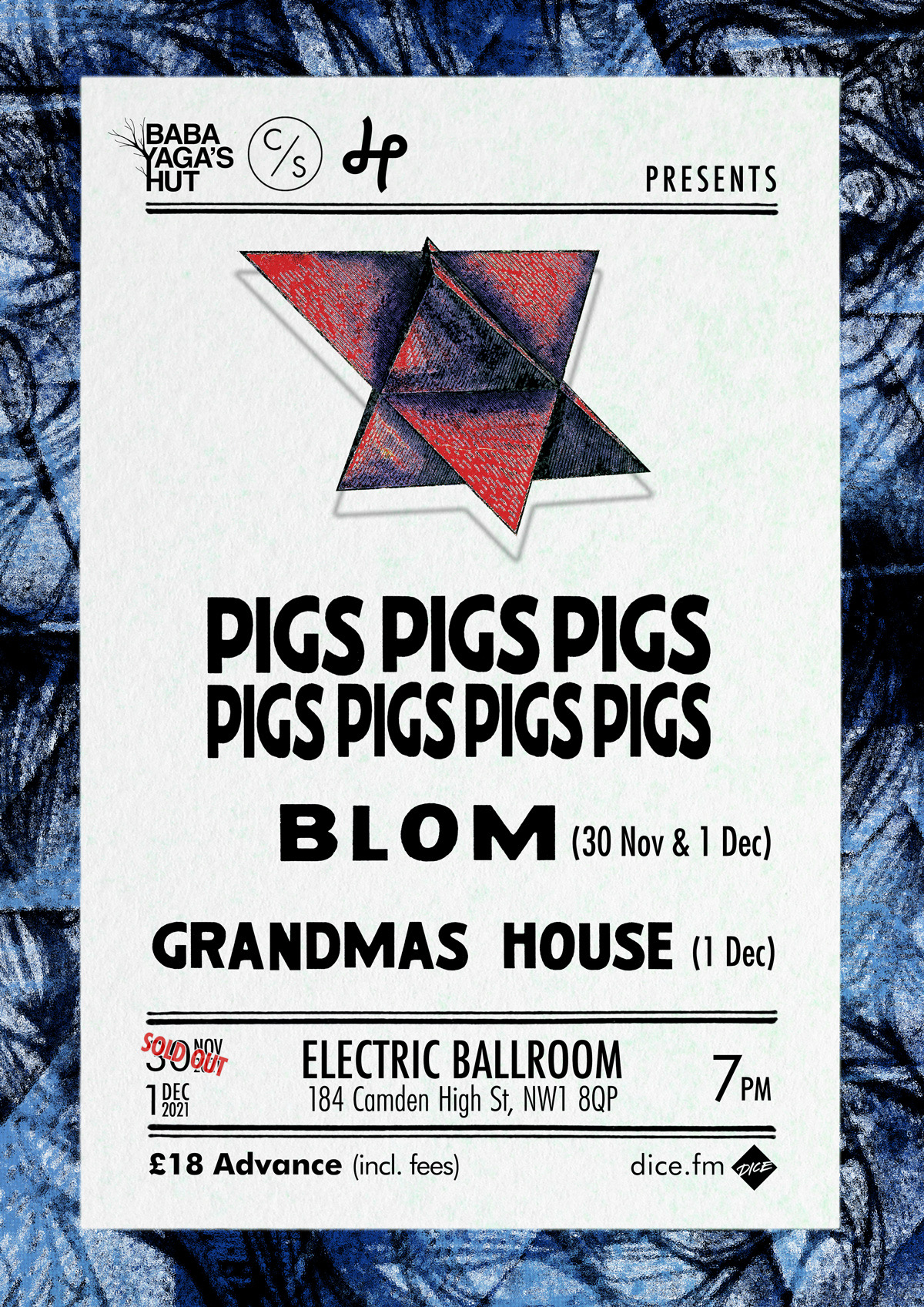 30.11.2021
DHP & Baba Yaga's Hut Presents
PIGS PIGS PIGS PIGS PIGS PIGS PIGS
plus special guests BLOM
Please note this show is 14+ (under 16s must be accompanied by an 18+ adult)
Seven is the magic number. What's more, this is about more then the number of days in the week or continents in the world – psychologists have theorised that the human memory's ability to calibrate information on a short term basis is mostly limited to a sequence of this length. Thus, it seems strangely fitting that Pigs Pigs Pigs Pigs Pigs Pigs Pigs – the Newcastle-based maximalists whose riffs, raw power and rancour have blazed a trail across the darker quarters of the underground in the last five years – have made a second album in 'King Of Cowards' which does its damnedest to take consciousness to its very limits.
"The demons have been summoned, channeled and purged." The Quietus
"They not only conjure up the history of metal, but take it on a mind expanding journey." MusicOMH
"One of the most exciting bunch of noise-rockin' brown-acid casualties the UK has to offer." Record Collector
"It's akin to bottling hellfire." Crack Magazine
COVID-19 Entry Policy:
HERE'S WHAT YOU NEED TO KNOW  
We can't tell you how good it is to be back. But we do have to tell you that 'back' is going to be a bit different right now.
COVID-19 – ENTRY
For entry, you will need to demonstrate your COVID-19 status by providing either:
Proof of a negative NHS Rapid Lateral Flow Test (such test to be taken within 24 hours prior to attending the event at the venue); or
Proof of full vaccination – both doses received (with the second at least 14 days prior to the arrival at the venue); or
Proof of natural immunity based upon a positive PCR test within 180 days of arrival at the venue (and after the 10-day self-isolation period following the result).
Please be ready to show this when you arrive.
HERE'S HOW
PROOF OF A NEGATIVE NHS RAPID LATERAL FLOW TEST
NHS Rapid Lateral Flow tests are free. You can order NHS Rapid Lateral Flow Tests here or pick them up from any pharmacy or test site.
Please do not bring the home test strip with you.
Follow these instructions for what you need to do:
You must report your COVID-19 NHS Rapid Lateral Flow Test result online, by clicking on this link – COVID-19 NHS Rapid Lateral Flow Test result.
If you do not have access to the internet, you can also report your test result by calling the phone number in your test kit's instructions, NHS 119.
You will need to demonstrate your negative NHS Lateral Flow Test result by showing us one of the following:
Text OR email confirmation of your result
OR by using the NHS COVID Pass, available through the NHS App
OR as a letter that can be requested by ringing NHS 119.
PROOF OF FULL VACCINATION – BOTH DOSES RECEIVED
We cannot accept vaccine cards issued at vaccination centres as proof of vaccination.
Please use the NHS COVID Pass to show your vaccination status using the NHS App or the NHS website to download it as a PDF or get it sent to you in an email.
You can also get a paper version (vaccination status only – not test results – 2 weeks after having a full course of the vaccine) sent to you in the post. You do not need to be registered with a GP surgery or have an NHS login for this. You can get a letter (within 5 working days) by requesting a COVID Pass letter online or calling NHS 119.
Here's how to get a record of your vaccination status in Scotland, Wales or Northern Ireland.
PROOF OF NATURAL IMMUNITY
Please use the NHS COVID Pass to show your positive PCR test within the past 6 months using the NHS App or the NHS website, after you've finished self-isolating and up to 180 days after taking the test.
---