Official Camden Oktoberfest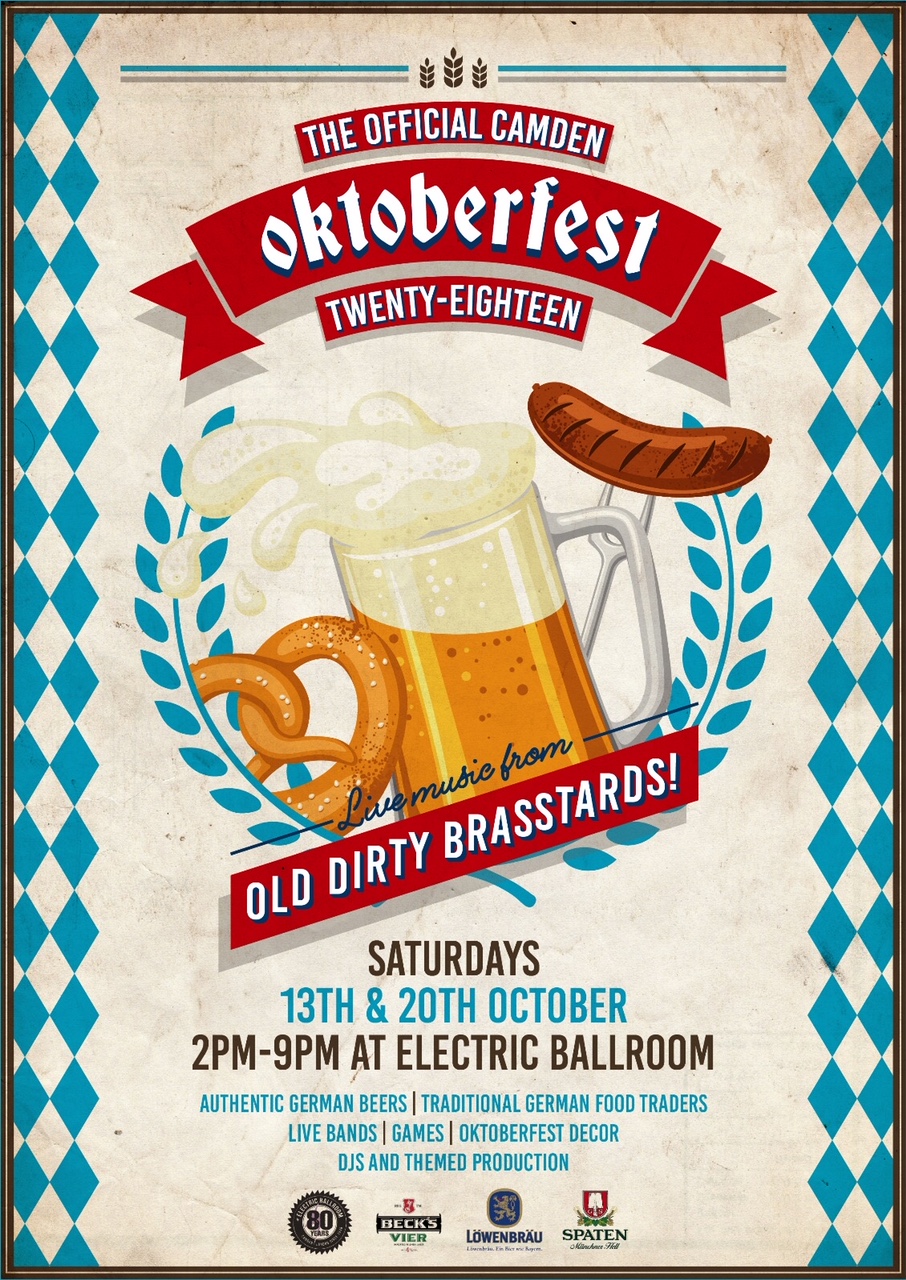 CAMDENS BIGGEST OKTOBERFEST
🇩🇪🍻 OLD DIRTY BRASSTARDS (10 PIECE DRUM AND BRASS BAND)
🇩🇪🍻 AUTHENTIC GERMAN BEERS
🇩🇪🍻 TRADITIONAL GERMAN FOOD TRADERS
🇩🇪🍻 DJS & PERFORMERS
🇩🇪🍻 WEIRD & WACKY BAVARIAN ENTERTAINMENT
🇩🇪🍻 OKTOBERFEST DÉCOR
& MUCH MORE!
Oktoberfest our favourite part of Bavarian culture – and The Official Camden Oktoberfest are embracing it in all its glory for London's finest Oktoberfest celebrations.
Following the sell-out success of the last two year's festival, this year The Official Camden Oktoberfest are going bigger and better at the famous Electric Ballroom.
The Electric Ballroom will be transformed into a fully decked-out, traditional Bavarian beerhall complete with long wooden tables and bunting, fit for a decadent bohemian schloss.
Our wunderbar waitresses and waiters will be dressed in Dirndl and Lederhosen and on hand to keep your steins filled to the brim and your mouths full of sausages. Lekker!
Oktoberfest is all about indulgence and excess. Camden Oktoberfest will have a wide selection of highly-regarded german beers supplied by Spaten, Löwenbräu & Becks. Enjoy copious amounts of 'liquid gold' served in the iconic stein glasses.
Along with giant-sized beers and delicious German sausages, revellers can expect live music from THE OLD DIRTY BRASSTARDS a 10 piece drum and brass ensemble playing covers, classics and oompah favourites… supported by an eclectic mix of DJs, dancing, hilarious challenges and competitions – with full fancy dress encouraged. Don't miss our gluttonous Oktoberfest and head to Camden for a beer swigging, rowdy good time.
The weekend Oktoberfest frivolity will be running from 2pm-9pm. Ticket holders are advised to arrive by 4pm.
---